Home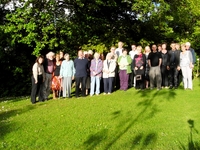 Welcome
Since opening its doors in 1997 T.B.T has provided quality home from home respite care and support to over 2000 individuals affected in any way by HIV. Now in it's 14th award winning year Tyddyn Bach continues to strive to uphold its 1st class track record, developing it's services inline with ever channging guest needs.
Providing a refreshing alternative style of residential respite, set outside the more usual care home environment Tyddyn Bach is available for those that desire a more flexible setting where nusing or clinical care is not needed.
NEW from 2011 - As part of its commitment to supporting people and communities Tyddyn Bach now offers dedicated breaks for other groups :-
* those affected by physical, mental and sensory impairment, that need low level support and are comfortable with their own personal care. The house has been fully adapted to ensure equal access for all downstairs and a stair lift is available for bedroom access. N.B wheelchair access is possible upstairs but for light useres only
* carers. We are aware that time to yourself is precious and we aim to offer carer breaks where time is in abundance. No cooking, washing up or demands placed upon you - just time for you.
* families. Family time can be priceless; time to rest and play. With a secure 2 acre garden, dedicated well stocked playroom and sturdy outdoor play area - its all here for you. Both the beach and mountains are within walking distance. Child minders are also available (see our rates)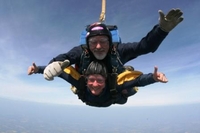 "I have always wanted to fly - and now I know how it feels!!! "
Sally Drury, 59, has been a volunteer at Tyddyn Bach Trust, Respite & Retreat, in Penmaenmawr, for 4 years now. Her main job as a fundraiser there has recently found her jumping from an aeroplane at 12,000 feet and free-falling at 120mph in a tandem sky-dive at Beccles Airfield in Suffolk. "It was the most exciting and exhilarating experience of my life so far" she said ".....even if I was the oldest person there!" Sally who lives in Penmaenmawr, has been gathering sponsors for the event for the past 6 weeks. "I can't thank the local community enough for their fantastic support," said Philip Kearton-Smith, manager at Tyddyn Bach, "especially Jo Grooms at The Design Room, the Holly family at The Village Stores and Carol and Peter Jones at Le Gallois Restaurant for holding sponsor forms at their premises and encouraging sponsorship. Thank you too to all those loyal people who faithfully support our fundraising events year after year." Sponsor money is still coming in, but the amount raised so far exceeds £1,600.
Fund Raising
Tyddyn Bach Trust is the only centre of its kind in Wales and England, however we receive no statutory funding from the Government, and thus rely on voluntary donations and the income generated from guests to continue operating. If you feel you would like to make a donation to support our ongoing respite care, please click on the banner - we greatly appreciate your time and generosity.
Our Next Fundraiser - To be arranged in the New Year
For further information about how to help fundraise or how to donate time or money please ask for details its easy !!
If you would like to make a donation to the work of the Trust please click on the DONATE NOW link below. (this is 100% secure and you have to option to remain anonymous if you prefer). As a self funding charity all donations are of course very gratefully received and "every little is a very big help".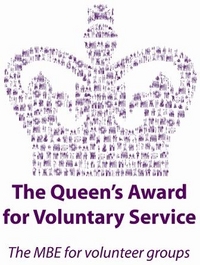 Awards
In recognition of the commitment to this very special resource and as a result of keeping the focus on service user needs, we have been fortunate enough to receive accolades such as:
. Network Wales Award 2010 -Most Admired Organisation (Runner Up)
. Charity Manager of the Year 2009
· Business Achievement Award 2009
· Network Wales Award 2008 (Highly Commended)
· Volunteer Group of the Year 2008 (Highly Commended)
· UKC National Hero's of the Year 2005,
· Volunteer Group of the Year Award 2005,
· The Queen's Golden Jubilee Award 2003,
· You're Champions Team of the Year 2002,
· Tree of Life Award 2000 for Best Respite Centre in the UK
Awards aside, we must be doing something right as
so many guests return year after year. Maybe this
is as a result of the friendly and informal atmosphere
or perhaps it is just the clean fresh Welsh air.
Whatever the reason Tyddyn Bach has become a
relaxed home from home for many where everyone can
be themselves away from the draining aspects of
hospitals and city life, a place to relax, repair and
rejuvenate.