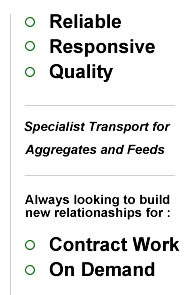 Welcome: We are a large Independent Haulage Company specialising in the transport of Bulk Haulage and Aggregates.

Established in 1963, Roland Young Ltd, have grown to a large fleet of vehicles, instantly recognisable throught Wales and North West England.
The company offers haulage of Bulk Goods such as feeds and coal and also specialise in haulage of aggregates either on demand or on a contractual basis. Roland Young Ltd also supply sand, top soil and fertilisers, and with our large fleet , we're able to undertake all kinds of work. Regularly providing bulk deliveries of materials to projects throughout the UK.
Ideally located near the Conwy Tunnel adjacent to the A55, we are committed to a fast and efficient delivery service. This competent and customer focused service is attributed to our long serving and experienced staff who
understand your needs. This aids us to make our service
friendly, professional and on call at all times.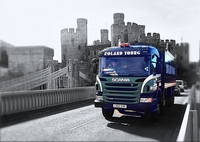 Please feel free to browse through our site andf we hope that you find the information you need, should you have any quires or require a quotation

Click Here

to get in contact with us.

Roland Young Ltd is TASCC registered (Trade Assurance Scheme for Combinable Crops) in accordance with UKASTA code of practice for road haulage.